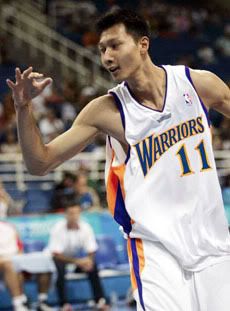 As I discussed at the end of my last post, the Milwaukee Bucks selected Yi Jianlian with the sixth overall pick in Thursday's NBA draft. Yi's request to have a team that was in a large metropolitan area with a high Chinese population select him obviously went on deaf ears, and he is now headed to Milwaukee...for now.
My theory is that as soon as Milwaukee selected Yi, Don Nelson and his cohorts with the Golden State Warriors immediately started making moves to get Yi in Oakland.
As I am sure the Warriors were intently watching, the Charlotte Bobcats selected Brandan Wright with the eighth overall selection. Michael Jordan, who is evidently calling the shots for Charlotte personnel moves had publicly stated he was tired of losing as the Bobcats have been since their inception in 2004. It looked as if the Bobcats were looking for a veteran who could make a big impact immediately. Golden State saw this opportunity and jumped right on it.
So, now Golden State holds the player that was selected two picks after Yi, readying them to offer Milwaukee a do-over and obtaining a player the Bucks would have been justified in selecting at the No. 6 pick. Depending on how enamoured the Warriors are with Yi and how impatient the Bucks get with Yi's
lack of desire to play in Milwaukee
, an even swap could be in the cards. The Warriors don't have very many spare pieces laying around with Matt Barnes likely leaving to be overpaid elsewhere and Mickael Pietrus becoming a restricted free agent. I could see them packaging Wright with their bonehead draft selection last year, Patrick O'Bryant, in an effort to convince the Bucks to part with Yi.
The reasons the Warriors are likely so high on getting Yi to the Bay Area has to do with several factors.
First and foremost, Yi is the exact type of player Don Nelson can mold into a success in the NBA game. See Yi as Nellie's latter-day Dirk Nowitzki. Nellie is accustomed to dealing with language barriers, coaching players who aren't interested in playing defense and being viewed as a Godfather-type figure. If he can get Yi to work up to his potential, he'll be canonized with God-like status as he was with Mavericks fans before Mark Cuban started
villianizing him
.
Secondly, Yi would be a perfect fit in Oakland because of the Bay Area's
huge Asian population
. San Francisco and Oakland combine to have the second most Chinese Americans in the country (behind New York City) and have easily the most Chinese Americans per capita of any area of the United States. Financially, Yi's presence in such an area would pull a windfall of support from a faction of fans that probably never would have attended a game before, but now will be attending games, buying T-shirts, and generally putting wads of cash into Warriors owner Chris Cohan's pocket.
Third, from everything I hear and read about Yi, he seems perfect for the system that Golden State employs. Athleticism, jump shooting and ball movement are cornerstones of their success, and these are what Yi excels in. Notice defense isn't listed there, which means he'll fit in perfectly with Golden State.
There is word out that Yi would consider not reporting to play for the Bucks if they don't trade him and that it is a distinct possibility he will
never play for the Bucks
.
My feelings on the subject have always been very cut-and-dry. If you enter a draft for a sport, you are submitting to the possibility of going to whomever chooses you. That's why it's called a
draft
. Yi is already getting close to being Dead to Me in the sports world, joining John Elway, Steve Francis, Kiki Vandeweghe, Eli Manning et. al. For what's it's worth, I currently wish for a career-ending injury for anyone who pulls this move. Call me vindictive, I feel very strongly about this issue.
So, on one hand, for basketball sense, I hope Yi gets traded to the Warriors. For personal sense, I hope his knees explode in a glorious, career-ending injury if he forces his way out of Milwaukee. I'm sure he's losing sleep over my feelings right now.
Reasonably yours,
Scooter
E-mail us