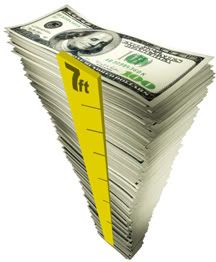 I hope Tony Mejia is right on
this one
.
Irresponsible spending on the part of NBA owners—especially to big men—has reached epic levels over the last several years. It seems owners are dumbstruck by the size of some players and in turn they provide them with far more money than they are worth. See Erick Dampier, Ben Wallace, Adonal Foyle, Nenê, Fat Eddy Curry, Fat Jerome James, Mark Blount, Dan Gadzuric, Etan Thomas, Chris Kaman and Nazr Mohaammed are just a few examples.
Believe me, it is the right of the owners to pay someone however much they choose for their services, but for God's sake, use some common sense.
Even though his columns are mostly useless New England/Las Vegas blather now, Bill Simmons has always has a great point about NBA team's front offices. They are all in dire need of a "
Vice President of Common Sense
." How much could some of these former players or rich curmudgeons with no business being in the front-office benefit from someone with a little bit of common sense who knows basketball? Or, better yet, stop hiring yahoos as general managers and hire someone who knows that signing Jerome James to a $30 million contract isn't the shrewdest of moves. Either way, it's time to stop hiring old guys and former players, please.
Baseball is already trending toward a youth movement in the front office with mixed results. Theo Epstein has been a success in Boston and is the highest profile of the youngsters. Rangers GM Jon Daniels, despite getting an extension recently, has been a massive failure thus far. But, the potential pitfalls in baseball are much larger. The draft never guarantees a slam dunk and the management of a minor league system and the sheer volume of major league players really requires a thorough understanding of the major league system.
In many ways, basketball is much simpler. The undeveloped, scarce talent pool of the Developmental League and the small roster sizes (12 active players, 3 inactive) is far less than that of a baseball team (40-man roster just for the major-league-ready players) and the amount of players on an NBA team that even log significant time is usually between 7 to 10 depending on the team concept or coach. In that respect, a specific understanding of the Collective Bargaining Agreement and some people skills paired with a healthy dose of youthful common sense can go a long way in the NBA.
The Sonics are already going young by
hiring 30-year-old Sam Presti
earlier this month. For owners who spend so much on players, why wouldn't they find people who really know what they are doing? When will owners finally figure out that basketball-playing experience (staring at Danny Ferry, Isiah Thomas and Kevin McHale)doesn't mean you know anything about running a basketball team? When owners finally start to figure out that general managers have just as much to do with creating a contender as the coach that molds the players, teams might start making wiser decisions. If the league as a whole starts making smarter decisions, the player market might finally start to dictate accurate salaries for players and have them paid what they're worth.
Some guys are worth $15 or 20 million a year, and once teams and GMs start figuring out that being 7-feet tall doesn't automatically put you in that club, they'll finally stop weeping over their horrible signings.
Reasonably yours,
Scooter
E-mail us